Dog Training 101 : Basic Dog Training
Basic dog training needs to be completed by six months of age. Older dogs can also be trained effectively but you will find that the process may be more difficult because older dogs can become set in their ways. Training your dog consists of basic skills and behavior your dog needs to learn.
It also includes such types of training as house training, obedience training, agility training and behavioral training.
The Most Important Part of Dog Training
The most important part of dog training is consistency and patience. Treat the dog training process with the same loving care you would if you were teaching a child. Any mistakes made during the training process can cause bigger problems down the road for you and your dog.
The first thing your dog should learn is that you are in charge. If your dog respects and submits to you, training will be much easier. Because dogs are social animals that would normally live in packs, you simply need to show your dog that you are the leader of the pack.
This is achieved by techniques like remaining in place when giving commands. Never go to your dog, and be sure to make it clear you are the one who gave the command.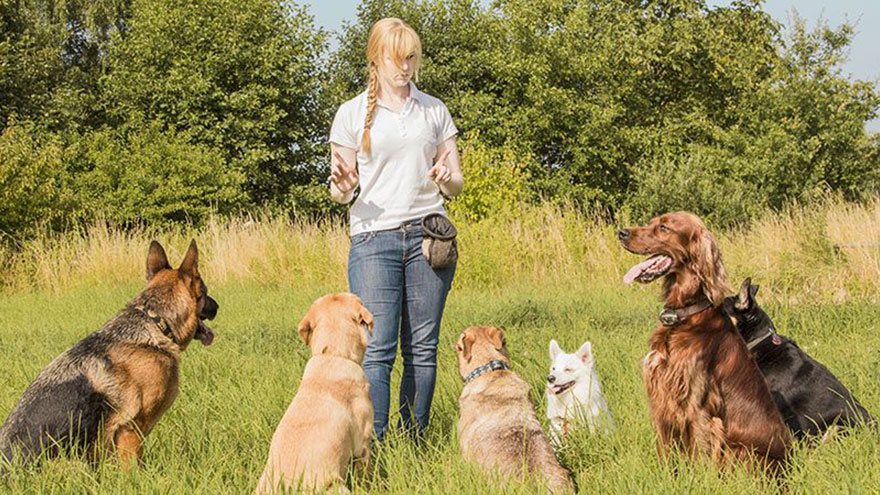 You will want to teach your dog the basic commands such as "come" , "sit" , "stay" and "off".
The "of" command is particularly important to any puppy training program because puppies are often so full of energy that they can be destructive with household possessions. By teaching your puppy "off" you can prevent damage to your belongings.
Which training methods you use are a matter of personal preference. Some dog owners are harsher and stricter than others, while others use positive reinforcement as a primary technique. Most professionals recommend using rewards and loving discipline to train your dog.
By learning about your dog's psychology, you will find out that dogs are not bad naturally and even enjoy training. An educated approach makes things easier and more pleasant for everyone involved.
You Might Also Like :: Dog Training 101 : Dog Training Basics